Parece que a Honda vai apresentar a substituta da moto do gajo mais forreta e sem gosto do bairro. A CB125F, que substitui a CBF125.
Citar:New Honda CB125F to make European debut at Motorcycle Live

2015 model gets a raft of changes but makes less power than before

HONDA has announced a new CB125F will make its European debut this Saturday at Motorcycle Live.

Successor to the CBF125, the new model has been extensively revised with a new engine and balancer shaft to reduce vibration, new chassis and six-spoke 18-inch wheels.

The new 124.7cc motor makes less power than before at 10.5hp and 7.5ft.lb of torque, compared to the current model's 11.1hp and 8.3ft.lb.

But Honda say the numbers tell only one side of the story: 'Focus of the engineering team was around the powerplant's real-world user friendliness – in other words, strong low and mid-range torque, with excellent throttle response for smart acceleration from a standstill in urban riding. The engine's pick up and throttle response is noticeably stronger.'

The current CBF125 has been the UK's best-selling 125 machine for the past four years but suffers from premature rusting. Build quality has now been improved, according to Honda.

Honda UK say: 'The 2015 CB125F is drawn from a fresh gene pool and while it maintains the previous model's core strengths, it builds heavily on quality, ease of use and a desirable new look. It's a great bike to simply get riders where they need to be - or from where to begin a lifetime of motorcycling.'

The new CB125F will be available next year in yellow, blue and red, and will be on display at the Honda stand at Motorcycle Live from 22-30 November.

Fotos: http://www.visordown.com/motorcycle-news...z3Jbu38Tcv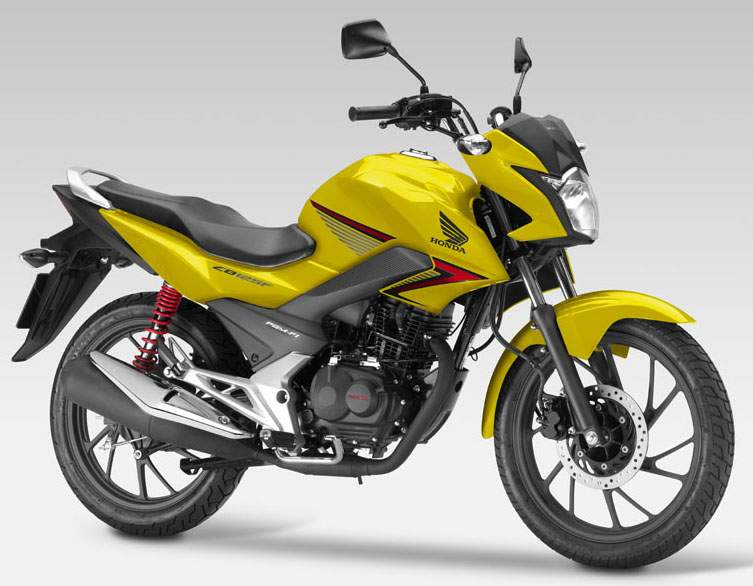 Especificações:
http://www.motorcyclespecs.co.za/model/H...f%2015.htm
Depósito maior. Novo tratamento anti-ferrugem. Motor novo. Menos potência (Tal como aconteceu com a CB650F face à Hornet).
Quanto às rodas, achei muito estranho os dados indicados no motorcycle specs. Falam em rodas de 18", mas em pneus 100/80 à frente e 90/90 atrás. Com pneus 90 atrás, ainda vai parecer mais uma bicicleta.  
Do que se vê nas fotos, ficou menos feia. Talvez o suficiente para eu deixar de franzir a cara sempre que me cruzar com uma.